Home
Worship Recordings
Videos
Photo Albums
USFW
Calendar of Events
About Jericho
Jericho Friends History
Pastors
Jericho Genealogy
Contact
Genealogy
Old Cemetery 1836
Jericho Friends on Facebook




Home Jericho Genealogy
Genealogy and the Burial Grounds of Jericho Friends
The Society of Friends have long kept records of members. A genealogist treasure. At Jericho Friends we have sources for your genealogy research.
We have two history books; one covers 1818-1958 and the other from 1858 to 1983. These books are available as a set only, for $15 plus postage and envelope which as of May 2009 is now $4. Please send check or money order for $19 (payable to Jericho Friends Meeting) Attention: Treasurer, Jericho Friends Meeting, to 4010E-100S, Winchester, IN 47394. These books are also available at the Randolph County Historical Society.
New Photo Coming Soon.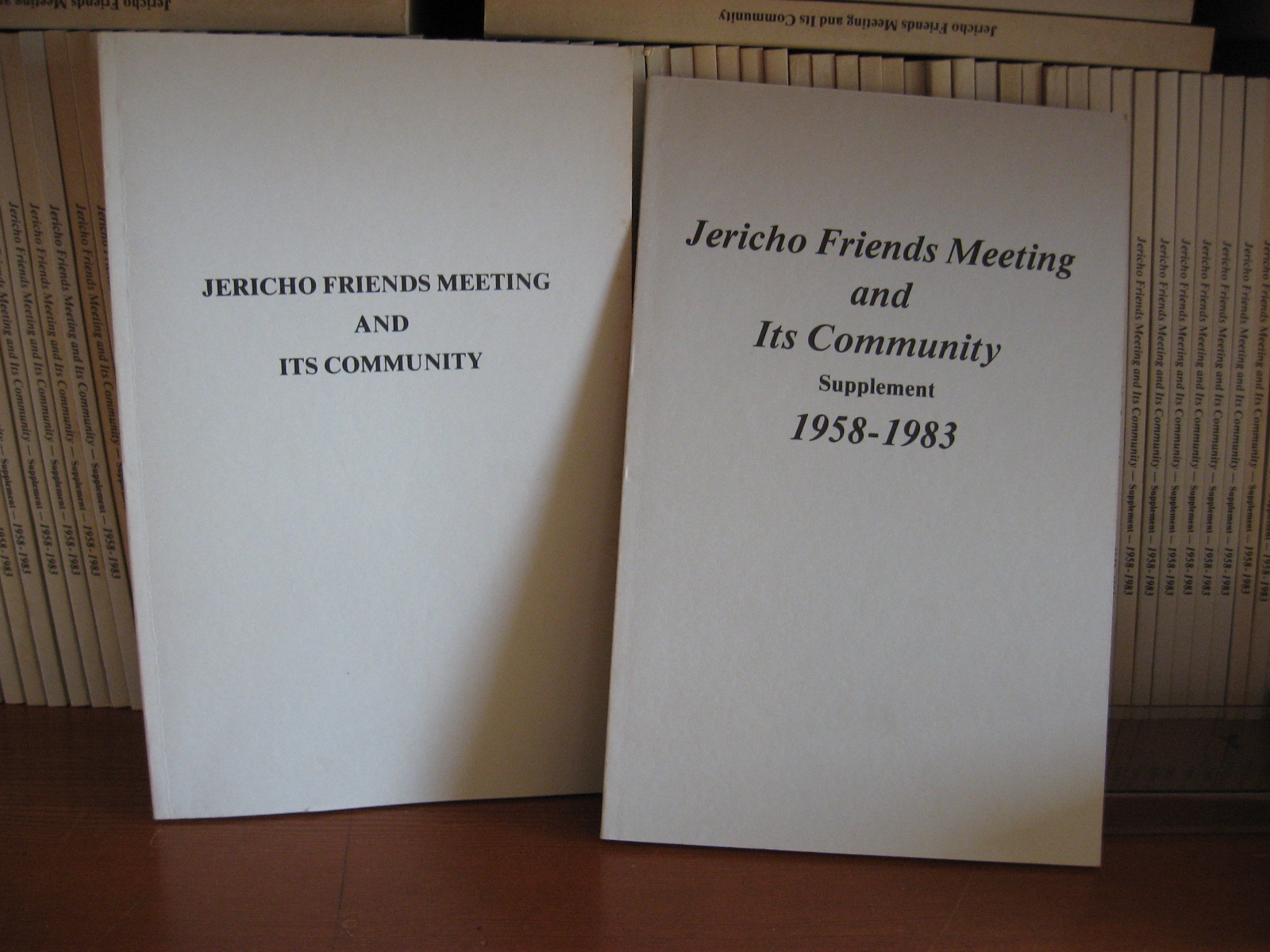 These books contain Family Sketches, Community Plot Maps, Death and Burials, Genealogy (of Members)/Membership Info, the Schools, Marriages, Ministry, Living experiences of the early settlers, and Pictures of some of the Early Settlers.
Family Sketches from the 1958 Book
Abram Peacock, Amos Peacock, Aaron Hill, Henry & Benoni Hill, Christopher Baker, Jeremiah Cox, Benjamin Cox, Joshua Cox, Solomon Cox, Amy (Weirman) Cox, Joshua Buckingham, Absalom Gray, William Pickett, The Picketts or Piggotts, Benjamin Pickett, Rebecca Pickett (Wife of John Pickett, deceased), Joseph Pickett, The Thomases, The Pikes, The Robinsons, The Keys Families, The Hinshaws, Solomon Hinshaw, The Littles, The Brumfields, The Fraziers, The Gilberts, The Eisenhours, The Schultz Family, The Thornburgs, The Shultzes, The Rowes, The Chenoweths, The Macys.
Family Sketches from the 1983 Book
Able, Allen, Bill, Brumfield, Burg, Burt, Byrd, Cash, Chenoweth, Cook, Cox, Detro, Curham, Fabert, Fields, Frazier, Gastineau, Gorham, Graham, Greenberg, Harris, Henderickson, Hernly, Hinshaw, Horner, Huffer, Jennings, Karnofel, Keys, Lacy, Lake, Lally, Lasley, Macy, Misson, Moystner, Myers, Neudecker, Overton, Painter, Peacock, Pickett, Pitts, Reece, Rees, Reno, Reynolds, Schafer, Shumaker, Thornburg, Wells, and Wiist.
If you have a genealogy request for information please send your request to jerichofriendsmeetingrcin at yahoo.com Scans and photos will be gladly shared of the information we have and of cemetery stones. Jericho has two cemeteries, the first was near the first meeting house, and was used from the beginnings of the meeting until 1835, when the Pike family donated the land where the current meeting house and cemetery are. The Pike family buried there on the hill well before that, and many of their graves are little more marked than with a piece of slate that is laying flat with the ground. Donald Peacock is the sexton of the cemetery, and representative of the Jericho Friends Cemetery Board.
For more information or copies of original documents you will need to contact the Indiana Yearly Meeting Archive of Records, stored at the Lilly Library at Earlham College. Tom Hamm is the current Custodian of the Records for IYM.
Sources for Jericho Genealogy can be found in the Quaker Encyclopedia America, Indiana by Willard C. Heiss (who's parents are buried here at Jericho).